<![CDATA[
Women's World Cup Champions Are Using Clout to Spotlight Inequality
One is a self-proclaimed "walking protest" with fuchsia hair who sparked petulant tweets from the president. The other is a vocal vegan who riled up the Brits with her celebratory tea-time pantomime during a July game against England. Together, Megan Rapinoe and Alex Morgan led the U.S. women's national soccer team to its second consecutive World Cup win this summer ​— ​and are hoping to rack up yet another victory in their next skirmish: a battle for equal pay. The California natives and the team they co-captain have enjoyed much public glory as a result of their FIFA wins. In 2015, they were the first women's sports team to be honored with a ticker tape parade in New York City, which they followed by visiting Barack Obama in the White House. Morgan was voted U.S. Soccer Female Player of the Year for 2018, and Rapinoe was named FIFA Women's Player of the Year for 2019. Just last month, both were featured in Fortune magazine's Most Powerful Women in Business issue.
Yet despite the honor and hefty profit they've brought to the United States Soccer Federation (USSF), they argue that the men's team is compensated at much higher rates despite never having won a World Cup. Now, with the eyes of the world ​— ​and especially those of idolizing young girls ​— ​on them, they're using their considerable clout to bring attention to that absurd discrepancy.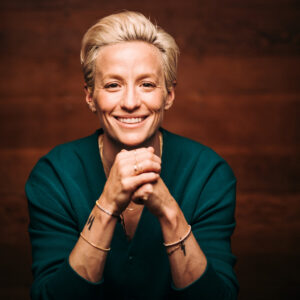 In March, Morgan, Rapinoe, and 26 of their teammates filed a lawsuit against the USSF for violating equal pay and civil rights laws. It's the first time a pro sports team has sued its employer for gender discrimination ​— ​but it isn't the first time Olympic champions Rapinoe and Morgan have used their platform to address or spotlight an injustice.
Rapinoe (pronounced ruh-PEE-noh; get it right!) was the first white pro athlete, and first woman, to join 49ers quarterback Colin Kaepernick in kneeling during the National Anthem back in 2016. "I know what it means to look at the flag and not have it protect all of your liberties," said Rapinoe, who is gay. The USSF quickly issued a rule that its players must stand during the anthem; now she stands quietly, hands clasped behind her. She has also been outspoken about President Donald Trump, telling him, "Your message is excluding people," and telling a reporter who asked about her team being invited to visit the president at 1600 Pennsylvania Avenue, "I'm not going to the fucking White House."
Morgan is an advocate for animal rights who tweets about her vegan diet; she was named PETA's Most Beautiful Vegan Celebrity this year. She authored a series of books called The Kicks, aimed at inspiring and empowering middle-school girls. And when some soccer fans were offended by her pinkies-up tea-sipping celebration gesture after she scored a goal against England this summer, she publicly pointed out the double-standard that allows and even encourages men to whoop up their victories but prefers that women show restraint.
You can see Morgan and Rapinoe tell their story when UCSB Arts & Lectures brings the pair to the Arlington Theatre on October 15. They'll also lead a soccer clinic the same day at UCSB's Harder Stadium for about 200 girls in the Santa Barbara Soccer Club.
Lena Fackler is a 10-year-old soccer player who will attend the clinic and the evening event ​— ​and who was watching the World Cup when they clinched their win. "They deserved it," she said. "They're really good. They have a lot of speed and really good skills. They worked really hard."
She hopes to learn a thing or two from the champs on the field next week. "Maybe some things that work for them might work for us in our games," Fackler said. "I think it's going to be really cool to get to meet them."
In the meantime, Morgan answered a few questions for us on the phone last week.
What should local audiences expect from your Santa Barbara talk?  Hopefully there's going to be some good banter, some laughs. We'll bring up a lot of memories from the World Cup. I've spent quite a bit of time in Santa Barbara; I'm looking forward to visiting.
Thinking back now, can you remember why you started playing soccer in the first place?  I joined because my sister played. I was able to really let my energy go in the sport. It was so exhilarating with the running and physicality.
If you weren't a soccer player, what would you be doing right now?  I have a big love for animals, so something like helping stray cats and dogs in the U.S., advocating for adopting rather than buying animals, or protecting endangered animals from poachers in Africa.
How comfortable are you in the "role model" mantle that you're now asked to wear daily? That's something I never expected when I was young and I wanted to become a pro soccer player, but we've learned that you have to be more than just an athlete. It's kind of ingrained in myself and my teammates that we put education first and look at how to grow the sport. Being a role model is one small part of that. We don't define ourselves only by being an athlete ​— ​we're 23 completely different women from different backgrounds with different journeys that come together and do something amazing.
With varying skill sets, too! What do you think boardrooms could learn from the U.S. women's soccer team?  Considering we've been in a lot of them lately … [Laughs.] I think that we have a lot of patience and empathy that we've been able to learn through playing at the highest level and having to adjust your game, your emotion, to lift the team up ahead of the individual.
What's the most surprising thing kids want to know when they meet you?  The biggest thing I've found is relatability: Girls wanting to feel like I was in their shoes when I was their age ​— ​asking about superstitions around games, your teammates being your best friends…
Speaking of which, how do you and Megan complement one another on and off the field?  We're super supportive of each other. We've played together for so long that we totally can predict on the field where each other is going to be. Becoming captains together, we had a lot of real honest conversations. We don't always see eye to eye but feel comfortable sharing our opinions and coming to common ground. Our families have spent a lot of time together, so we almost feel like family.
You make this equal-pay fight look easy, but there must be moments when it weighs on you. What's the bigger thing that pulls at you when you think, This is a mess ​— ​I just want to play soccer?  All my teammates and seeing them put in the work ​— ​and all the support and recognition we've gotten for this fight we're having with our employer, our government, and our cultural norms. This is going to make a bigger cultural impact than anything we could do on the field.